Republicans Reject McCarthy's Debt Ceiling Agreement
By The Absolute Truth with Emerald Robinson, 31 May, 2023
House Freedom caucus Rips Debt Ceiling agreement
00:00 Freedom caucus congressmen said: not one republican should vote for this bill…It is a bad deal. This a career defining vote for every republican…This bill is more Washington gimmicks that kicks the proverbial can down the road…The speaker himself said that our debt is our greatest national security risk, now is the time to act, and this deal fails completely…Emerald Robinson said that the deal does nothing to solve our debt crisis.
1:40 Kevin McCarthy (KV): when you listen to Wall Street journal, New York Post, and the Washington economist, they will say that this is the strongest debt ceiling we ever had.
Compared to when Republicans were in the majority, when they had the House, Senate, and the Presidency, they did not cut anything, they just added to the debt.
In an opinion article by Historian, Victor Hanson, Hanson: The spread of the debt virus infecting America., he said: "In the first two decades of the 21st century, the United States has faced three existential crises. The first was the 9/11 terrorist attack on the World Trade Center and the Pentagon, which prompted a global effort to fight radical Islamic terrorism. The second occurred in 2008, when the U.S. financial system and stock market nearly collapsed. The third began earlier this year with the COVID-19 epidemic and a quarantine that reduced the economy to its most shaky state since the 1930s.
During the first two crises, we snapped back the economy with low interest rates, increased government spending and larger annual deficits — and passed the greater long-term debt to another administration, another Congress and another generation of Americans.
We are postponing another rendezvous with reality. But as we near $30 trillion in debt, what cannot go on much longer soon probably won't."
2:15 Joe Biden laughed and said that he did not have to compromise on the debt ceiling: "I did not made a compromise on debt ceiling I made a compromise on budget."
2:34 Kat Cammack R Fl-She advocated for the Reins act that would have saved $2T annually in the first house bill but it was cut
But To Congressman Massie, R KY, Republicans say lets go back to pre-COVID spending levels and that's code for "let's spend less than we helped Trump spend in his last term.
These folks enabled those levels by opposing the CARES Act and caused inflation that scaled up subsequent spending.
3:14 Andy Biggs congressman AZ: Biggs and Massie voted no on CARES act
4-40 The numbers that the supporters of this bill that I disagree with are:
We will save $130B per year but because of our spending ways we will borrow $2T per year.
Massie said we will deal with the IRS part of the bill and Biggs says that never works out for us.
6-00 Emerald Robinson makes the point that Republicans have a lot of leverage to get concessions from the President why did they not use it?
6-12-AB-Congressman Biggs says that some Republicans buy into this bill as a net savings, which is not true, and, that we will default on June 7, which is not true, because June is one our biggest revenue months of the year because you have quarterly taxes coming in.
He went on to say that Janet Yellin is trying to scare you a few months ago. She said that we will have a decrease in revenues which was a lie. She is a hack and that is why she says there will be an x-date.
Biggs said that, if they chose his bill, the money would have lasted through July.
He went on to say that there are no words to say that over the 10 years of $71B funding for IRS, that was reduced by $1.48B, that you can't hire more IRS agents.
7-59 EB-KM broke his promise to Biggs et al when they agreed to support him for speaker so how does he get around that?
Biggs says he was not part of those negotiations but his understanding is the house with KM sent a bill to rescind it to senate but it was not passed.
10-05 ER-if this bill passes, will freedom caucus file motion to vacate the speaker chair?
10-51 AB-Biden's economic advisor says all of the Biden agenda is protected so that is why Democrats are supporting it.
the question is: how many Republicans will support it? Biggs predicts a bare majority will support the bill.
Actual vote was 67%(149/222) Republicans and 77% Democrats
_________________________________________________
https://americasvoice.news/video/XjsPqKnudQcF89C
THE WAR ROOM WITH STEPHEN K. BANNON EPISODE 2774 PART 1
JUNE 1ST, 2023
Yes 314 no 117
Republicans yes 149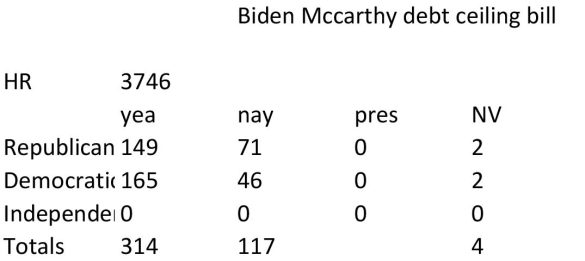 Bill is passed.
5:05 Axios got the scoop.
Editor's note: This story has been updated to include denials by McCarthy's and Jeffries' offices of any deal in exchange for Democratic support for the procedural vote. Spokespeople for House Speaker Kevin McCarthy (R-Calif.) and Minority Leader Hakeem Jeffries (D-N.Y.) disputed four Democratic sources who told Axios the two leaders had cut a deal for Democrats to help advance the debt ceiling bill to a final vote.
Jeffries, McCarthy offices say there was no deal to save debt ceiling bill
Laura Loomer Floats Idea of Running Against Marjorie Taylor Greene
BY KAITLIN LEWIS ON 5/31/23 AT 10:09 PM EDT
Laura Loomer, a controversial attorney and Trump supporter, said that she may challenge Marjorie Taylor Greene (MTG) in her next primary in 2024 describing MTG as "professional conwoman [Greene] who exists for the sake of doing [House Speaker Kevin McCarthy's] bidding?"
Laura loomer had Trump's support to be on his campaign staff and MTG opposed it.
In the Newsweek article today, Lauren Boebert Misses Debt Ceiling Vote, they state that " numerous fiscally conservative think tanks like the Heritage Foundation, Freedom Works, and the Club for Growth, all urged Republicans to vote against the deal."
And they list the Republicans that voted no on the bill.
POLITICS
Lauren Boebert Misses Debt Ceiling Vote
BY NICK REYNOLDS AND JENNI FINK ON 5/31/23 AT 10:20 PM EDT
The House Republicans Who Voted Against the Debt-Ceiling Deal
Rep. Mark Alford (MO)
Rep. Andy Biggs (AZ)
Rep. Dan Bishop (NC)
Rep. Mike Bost (IL)
Rep. Josh Brecheen (OK)
Rep. Vern Buchanan (FL)
Rep. Ken Buck (CO)
Rep. Tim Burchett (TN)
Rep. Eric Burlison (MO)
Rep. Kat Cammack (FL)
Rep. John Carter (TN)
Rep. Ben Cline (VA)
Rep. Michael Cloud (TX)
Rep. Andrew Clyde (GA)
Rep. Mike Collins (GA)
Rep. Eli Crane (AZ)
Rep. Scott DesJarlais (TN)
Rep. Byron Donalds (FL)
Rep. Pat Fallon (TX)
Rep. Brad Finstad (MN)
Rep. Michelle Fischbach (MN)
Rep. Russel Fry (S.C.)
Rep. Russ Fulcher (ID)
Rep. Matt Gaetz (FL)
Rep. Tony Gonzales (TX)
Rep. Bob Good (VA)
Rep. Lance Gooden (TX)
Rep. Paul Gosar (AZ)
Rep. Morgan Griffith (VA)
Rep. Michael Guest (MS)
Rep. Harriet Hageman (WY)
Rep. Andy Harris (MD)
Rep. Diana Harshbarger (TN)
Rep. Kevin Hern (OK)
Rep. Clay Higgins (LA)
Rep. Wesley Hunt (TX)
Rep. Ronny Jackson (TX)
Rep. Darin LaHood (IL)
Rep. Debbie Lesko (AZ)
Rep. Anna Paulina Luna (FL)
Rep. Morgan Luttrell (TX)
Rep. Nancy Mace (SC)
Rep. Tracy Mann (KS)
Rep. Brian Mast (FL)
Rep. Richard McCormick (GA)
Rep. Mary Miller (IL)
Rep. Cory Mills (FL)
Rep. Alex Mooney (WV)
Rep. Barry Moore (AL)
Rep. Nathaniel Moran (TX)
Rep. Ralph Norman (SC)
Rep. Andy Ogles (TN)
Rep. Gary Palmer (GA)
Rep. Scott Perry (PA)
Rep. Bill Posey (R-FL)
Rep. John Rose (TN)
Rep. Matt Rosendale (MT)
Rep. Chip Roy (TX)
Rep. George Santos (NY)
Rep. Keith Self (TX)
Rep. Pete Sessions (TX)
Rep. Victoria Spartz (IN)
Rep. Greg Steube (FL)
Rep. Dale Strong (AL)
Rep. Tom Tiffany (WI)
Rep. William Timmons (SC)
Rep. Jeff Van Drew (NJ)
Rep. Beth Van Duyne (TX)
Rep. Mike Waltz (FL)
Rep. Randy Weber (TX)
Rep. Ryan Zinke (MO)
#House Freedom caucus #Debt Ceiling agreement