Mike Lindell
By Lindell-TV, 09 May, 2023
Using the cast vote records obtained by Jeff Donell's group, the Raccoon Army, the percent of mail in votes for President trump was plotted for 18 counties of the hundreds which fit the abnormal "Mesa pattern".
The mesa pattern is an unnatural voting pattern which shows that the votes for Democrat candidates in 2020 (and since) were manipulated via front end vote loading followed by computerized control of the entire election.
The vote data was "normalized" for all 20, meaning that the vote counts were adjusted so that they fit on the same graph showing the same proportions.
The resulting graph shows further indisputable evidence of nationwide vote manipulation via a common computer algorithm.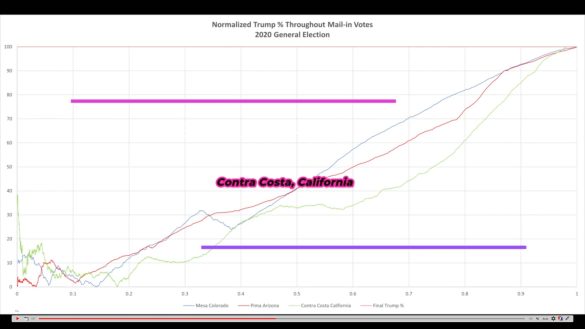 For all of these counties from all over the country to show the same general pattern in their mail-in-voting is impossible.
To view volume one of the Fingerprints of Fraud report, go to https://votedatabase.com.
#fingerprints #Fraud #Mike Lindell #Jeff Donell