Hospitalizations and Deaths Occurred due to Lack of Early Therapeutics Not COVID-19 Vaccination Rates.
Great Texas COVID-19 Tragedy
MAR 25, 2023
By Peter A. McCullough, MD, MPH
Recently a tweet popped up implying that lower Texas vaccination rates were responsible for deaths with COVID-19 through 2021 and mid 2022. I live in Texas and have been treating patients with high risk COVID-19 from the very start of the crisis.
Despite all the hopes and aspirations for those pushing vaccine ideology, prospective, randomized, double-blind placebo controlled trials in 2020 never demonstrated reductions in hospitalization and death. As a result, no therapeutic claim of survival can be made by anyone. Reduction in the risk of death is listed in the "benefit" section of vaccine consent form. COVID-19 vaccines have never saved lives.
Of the ~90,000 deaths through September 1, 2022, and ~40,000 after May 1, 2022 when vaccines had been widely deployed for five months, none of them were prevented by COVID-19 vaccination. By December, 2021, failure of COVID-19 vaccines was very obvious with the Omicron outbreak which was largely among the fully vaccinated.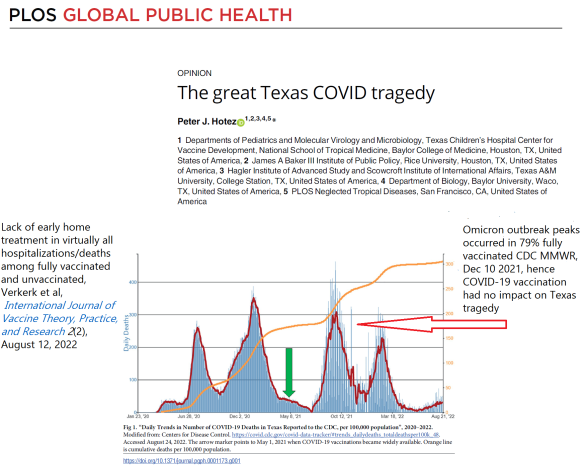 Adapted from Hotez PJ (2022) The great Texas COVID tragedy. PLOS Glob Public Health 2(10): e0001173. https://doi.org/10.1371/journal.pgph.0001173
The real tragedy in Texas and all over the world was the absolute or relative lack of early combination therapeutics at home in high risk COVID-19. Gkioulekas et al concluded that by December of 2020, we had clear and convincing evidence (P<0.01) that early treatment was effective in reducing hospitalization death, a claim that could never be made for COVID-19 vaccines. Verkerk et al demonstrated the vast majority of hospitalizations and deaths occurred as a result of little or no access to early combination therapy. Failure to treat resulting in avoidable death is always a tragedy. In conclusion, readers of the peer-reviewed literature and social media should be wary of vaccine ideology as promoted by those with a vested interest in developing vaccines, NIH funding, or close ties to the biopharmaceutical complex. Early therapeutics has been a bright spot in the pandemic. High-risk index cases among the vaccinated and unvaccinated benefitted from compassionate care which was the best chance to survive the illness and avoid hospitalization and death. If you find "Courageous Discourse" enjoyable and useful to your endeavors, please subscribe as a paying or founder member to support our efforts in helping you engage in these discussions with family, friends, and your extended circles. Hotez PJ (2022) The great Texas COVID tragedy. PLOS Glob Public Health 2(10): e0001173. https://doi.org/10.1371/journal.pgph.0001173 Verkerk, R., Kathrada, N., Plothe, C., & Lindley, K. (2022). Self-Selected COVID-19 "Unvaccinated" Cohort Reports Favorable Health Outcomes and Unjustified Discrimination in Global Survey. International Journal of Vaccine Theory, Practice, and Research, 2(2), 321–354. https://doi.org/10.56098/ijvtpr.v2i2.43 Gkioulekas, Eleftherios & McCullough, Peter & Zelenko, Vladimir. (2022). Statistical analysis methods applied to early outpatient COVID-19 treatment case series data. 10.22541/au.164745391.17821933/v4. #Peter A. McCullough, MD, MPH #COVID