Ed Dowd Drops Bombshell Data: Hematological (Blood-Related) Claims Up 522% Above Trend in 2022 (VIDEO)
By Guest Contributor Jul. 24, 2023 11:00 am
This article originally appeared on Vigilant Fox Substack and was republished with permission. You can follow his work here.
"We were looking for data like this, and we found it in the UK Personal Independence [Payment] (PIP) system," announced former Blackrock portfolio asset manager Edward Dowd (@DowdEdward) on the Dr. Drew show. "We need the help of the medical community and the regulators to explain what's going on because it's alarming."
Dowd then presented a slide showing yearly PIP clearances (payments) by body system, using different metrics for 2020, 2021, and 2022.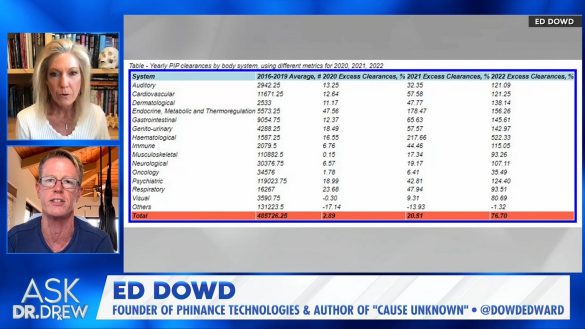 "And you can see, I'll point out hematological (blood-related) … that's up 522% in 2022. And I want to say this is versus trend. It's not versus 2021 or 2020. It's versus a trend that we analyzed from 2016 to 2019. So it's a percent increase over trend. And the trends were stable — and then this exploded."
Dowd continued to explain the chart in more detail.
"And you can see, if you look at this chart, [increased claims in] different body systems started off slowly in 2020, picked up speed in 21, and just exploded in 2022. So something is going on that is detrimental to the population of the UK," he concluded.
Here are some of the worrisome numbers of increased claims above trend in 2022:
Hematological – up 522%
Auditory – up 121%
Cardiovascular – up 121%
Dermatological – up 138%
Endocrine, metabolic, and thermoregulation – up 156%
Gastrointestinal – up 145%
Genito-urinary – up 143%
Immune – up 115%
Musculoskeletal – up 93%
Neurological – up 107%
Oncology – up 35%
Psychiatric – up 124%
Respiratory – up 93%
Visual – up 80%
"These numbers are just crazy percentage-wise," Dowd remarked.
"We can convert these things to what's called Z scores or standard deviations."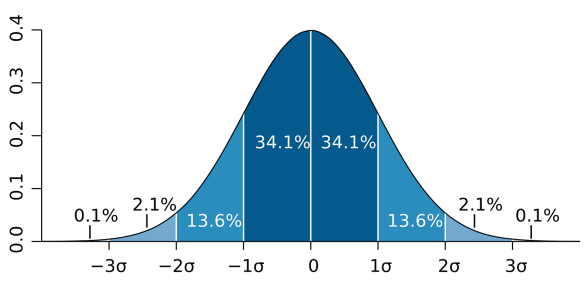 Dowd explained how a three-standard deviation happens 0.3% of the time. "In Wall Street, that's a big deal." "Sometimes we see extreme six-standard deviation events, and that's kooky," he added. But alarmingly, the increase in hematological (blood-related) claims equates to a 61 standard deviation. "That's like the probability of a black hole appearing near the earth, and we get sucked in in two years. It's not something that is likely to occur mistakenly," Dowd remarked.
Dowd ended by commenting, "61 standard deviations is lights out, black swan event, something's gone off the rails. It's so many zeros and so unlikely to happen by accident that it has to be explained. And that's what we're calling on the medical community to explain this. That's it."
The full interview between Doctors Drew Pinsky, Kelly Victory, and former Blackrock portfolio manager Ed Dowd is available in the video below:
Ed Dowd Reveals New "Bombshell" Data That Looks Like A Cover Up w/ Dr. Kelly Victory – Ask Dr. Drew
The Vigilant Fox is a writer, video clipper, and pro-freedom citizen journalist with 12 years of healthcare experience. To receive new posts and support Vigilant Fox's work, consider becoming a paid subscriber if you aren't yet at https://vigilantfox.substack.com.
Search for:
Search …
Video of the Week
Biden's Dept. of Prisons Are Breaking All Rules and Precedent to Place J6 Prisoners in with the Violent Prisoners – J6 Prisoner and Model John Strand Tells His Story (VIDEO)
Trending on TGP
Ed Dowd Drops Bombshell Data: Hematological (Blood-Related) Claims Up 522% Above Trend in 2022 (VIDEO)
Divers Discover Body of 45-Year-Old Black Paddle Boarder in Pond on Obama's Martha's Vineyard Mansion – 911 Call Came From Obama Residence!
BREAKING UPDATE: 45-Year-Old Black Man Drowns Off Obama's Martha Vineyard Home – Obama's Personal Chef Tafari Campbell Identified as Victim
ESPN FC Commentator Shaka Hislop Collapses on Live TV During Real Madrid vs. AC Milan Friendly Match (VIDEO)
BREAKING UPDATE: Zelensky Associate Was Present at Biden Bribery Meetings – Then Went to Work for President Zelensky Who Now Is Holding Blackmail Information Against Joe Biden (VIDEO)
Become A TGP Insider
Sign up for our free email newsletter, and we'll make sure to keep you in the loop.
Email Address
American Gulag
Visit AmericanGulag.org to learn how to help the prisoners of the protest on January 6th.
TGP Truth
As the mainstream media repeatedly fails and loses public trust, TGP has continued to offer accurate and timely reporting for almost two decades. Visit TGP FactCheck to see how we get it right.
TGP FactCheck
Check out TGP FactCheck to see how terribly wrong the legacy media can get it.
TGP Store Featured Product
Please Help The Gateway Pundit
Please Donate Here
The Gateway Pundit | Where Hope Finally Made a Comeback
© 2023 The Gateway Pundit
#Dowd #Covid #cancer